Donor Stories
We thank all our planned-gift donors for their generous support. Here are some of their stories.
Kelly Wesley Taylor - Gamma Iota/Kentucky
Ensuring her annual gifts continue long into the future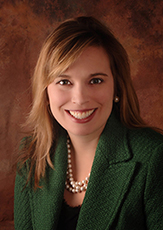 As a new member of the Gamma Iota/ Kentucky Chapter I learned about "Theta for a lifetime" but never in my imagination did I really know what those words could mean.
Over the years - almost 20 - since my initiation, there have been more connections to Theta that have guided my life course then I can count on two hands. Because of these connections, I have deep gratitude and affinity for Kappa Alpha Theta Foundation. As a former trustee of the Foundation at one time I even had "ownership" in the advancement of its work. My strong sense of appreciation inspires me to financially support its efforts to provide leadership and scholarship support to our members to the best of my personal ability each and every year. The amount of my annual gifts to the Foundation have fluctuated in size over the years based on my personal financial capacity, however, I am proud of the number of years I have been a supporter regardless of the number of dollars I have be able to share. It is important to me that my loyal giving continues.
A few years ago, I decided to make the Foundation an heir of my estate when I die. While I hope this future gift won't come to fruition for many years - hopefully decades- to come, I take heart knowing that my support will continue after I am no longer around to make my annual gifts.
In recognition of my bequest intention the Foundation placed my name along the many women (and men) in the Lambert Legacy Society who made the same level of lasting commitment to ensure their support doesn't cease when they make their leave of this world. It comforts me to know that the impact Theta has had on my life will live beyond me and the gifts I make to the Foundation in recognition of my gratitude will continue as well.
Christa Dell Sobon - Delta Zeta/Emory
A new family meant new plans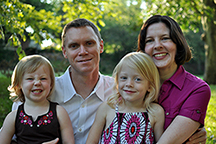 There are key moments that stand out as I reflect on my life. Outside of well-known world events, key memories involve my family and Kappa Alpha Theta. My Theta path started before I was even a member. I have a lovely connection with my mother's friend, Kathryn Corso, Gamma Upsilon/Miami, who wrote my Theta reference. To this day, I remember her enthusiastic encouragement to "Think Theta." I am so glad I did!
As an initiate of the Delta Zeta chapter, my Theta membership allowed me to grow as a young woman and develop life-long friendships. While a collegian, I learned about legacies and Theta for a Lifetime from alumnae who served as advisors, as well as Theta family members who came to initiate their sisters, daughters or granddaughters.
A few years after graduation, I was offered an opportunity to volunteer at the district level. During this time, I learned more about Kappa Alpha Theta Foundation and the remarkable work the Foundation does. Throughout my years as a volunteer, I have seen the wonderful, positive impact of Foundation dollars. Our Educational Leadership Consultants (ELCs), who are in part funded by the Foundation, are a tremendous source of support for our chapters and wonderful ambassadors for the Fraternity. The Foundation also funds an incredible number of collegian and alumnae scholarships and grants.
While a Fraternity volunteer, I fell in love, married, and started my own family. Though it sounds cliché, from the moment I knew I was pregnant, my priorities and perspective changed. I remember the first time I saw our daughter's great big blue eyes as she looked at me after arriving a bit earlier than expected. Of course, we had the car seat, cute kite and pansy adorned clothes, and "Future Theta" gear. I lovingly sang Theta songs to her as I rocked her to sleep.
As new parents, my husband and I undertook the task that many tackle at some point in their life - that of creating a will. It is a daunting thing to think through your legacy and ensure you've appropriately conveyed your wishes. In determining how we wanted our assets distributed, I discussed with my husband my desire to include Kappa Alpha Theta Foundation in my will. To me, it was a "no brainer" as I have been a loyal Foundation donor and a grateful Foundation grant recipient. Theta has been a tremendously positive experience in my life, and I wanted to reflect that in my estate planning.
Now I have two legacies, both with big blue eyes. As they play with hula hoops and blow bubbles, I think about the colleges they might choose and the opportunities that will be available to them. It is my sincere hope that Theta and other Greek letter organizations will be even stronger when my legacies are ready to consider participating in Recruitment. The Fraternity and Foundation are working to ensure that is the case, and I am glad to be a part of supporting their work.
John and Dinah Hampton McClymonds - Alpha Omicron/Oklahoma
Expanding their current impact with an estate gift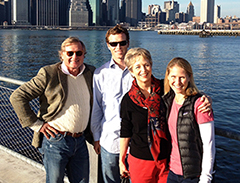 Dinah Hampton McClymonds is a dedicated Theta through and through. She has paid dues in four alumnae chapters, and served the fraternity on the national level for eight years. Dinah truly believes in the lasting benefits of being a Theta.
Dinah's husband John, a member of Sigma Alpha Epsilon, understands her passion, "Dinah has devoted so much of herself to Theta. We're very proud of all she has accomplished for Theta, and in turn, it has provided her with a foundation of friendship and sisterhood. We moved several times over the years, and in each city, Dinah reached out to the Theta alumnae chapter to help her transition to her new environment. Even in big cities, the sisterhood and bond of Theta was there to support her. Dinah volunteered on many Theta fundraising projects and found that she really enjoyed the time spent working with her Theta sisters."
When Dinah's 60th birthday was approaching in June 2009, John and their grown children, Reagan and Katherine, began to think about a one-of-a-kind gift for a one-of-a-kind woman! John stated, "Theta Foundation has a special place in our hearts as a philanthropic conduit to provide scholarships and grants to young Thetas. Can you imagine anything more wonderful than helping young women, watching them grow academically, while also building them into world class leaders? We couldn't. As a lasting tribute to Dinah's longtime service and involvement with Theta, we were honored to set up this endowment in her name. Just as Theta has provided Dinah with so many opportunities and lasting relationships, we felt an appropriate and meaningful tribute was to offer the opportunity of higher education to a worthy young Theta. In light of the recent economic downturn, many families and students are struggling to fund their educations. In this small way, we hope we have provided an opportunity for dedicated young Thetas, and are honored to help with their educational needs. We can think of no greater tribute to Dinah and her work with Theta Foundation."
Dinah was completely surprised when the announcement was made at Theta's Leadership Conference in Dallas this year. "I am speechless!" Dinah said after learning of the incredible gift from her family. "I couldn't have asked for anything more special from the people I love."
Dinah and her family can now look forward to hearing from the young women they help with their educational endeavors, assisting in Theta Foundation's vision of giving every Theta an opportunity to make a difference. And Dinah's gifts to Theta Foundation will continue, as she has included Theta Foundation as a beneficiary in her estate plans. As a member of the Lambert Legacy Society, Dinah has chosen to extend the personal fulfillment she has received from their current gifts to Theta Foundation as a part of her lasting legacy.