Donor Stories
John and Dinah Hampton McClymonds, Alpha Omicron/Oklahoma
Expanding their current impact with an estate gift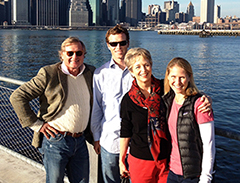 Dinah Hampton McClymonds is a dedicated Theta through–and–through. She has paid dues in four alumnae chapters and served the Fraternity on the national level for eight years. Dinah truly believes in the lasting benefits of being a Theta.
Dinah's husband John, a member of Sigma Alpha Epsilon, understands her passion: "Dinah has devoted so much of herself to Theta. We're very proud of all she has accomplished for Theta, and in turn, it has provided her with a foundation of friendship and sisterhood. We moved several times over the years, and in each city, Dinah reached out to the Theta alumnae chapter to help her transition to her new environment. Even in big cities, the sisterhood and bond of Theta was there to support her. Dinah volunteered on many Theta fundraising projects and found that she really enjoyed the time spent working with her Theta sisters."
When Dinah's 60th birthday was approaching in June 2009, John and their grown children, Reagan and Katherine, began to think about a one-of-a-kind gift for a one-of-a-kind woman! John stated, "Theta Foundation has a special place in our hearts as a philanthropic conduit to provide scholarships and grants to young Thetas. Can you imagine anything more wonderful than helping young women, watching them grow academically, while also building them into world class leaders? We couldn't. As a lasting tribute to Dinah's longtime service and involvement with Theta, we were honored to set up an endowment in her name. Just as Theta has provided Dinah with so many opportunities and lasting relationships, we felt an appropriate and meaningful tribute was to offer the opportunity of higher education to a worthy young Theta. In light of the economic downturn in 2008, many families and students are struggling to fund their educations. In this small way, we hope we have provided an opportunity for dedicated young Thetas, and are honored to help with their educational needs. We can think of no greater tribute to Dinah and her work with Theta Foundation."
Dinah was completely surprised when the announcement was made at Theta's Leadership Conference in Dallas in 2009. "I am speechless!" Dinah said after learning of the incredible gift from her family. "I couldn't have asked for anything more special from the people I love."
Dinah and her family can now look forward to hearing from the young women they help with their educational endeavors, assisting in Theta Foundation's vision of giving every Theta an opportunity to make a difference. And Dinah's gifts to Theta Foundation will continue, as she has included Theta Foundation as a beneficiary in her estate plans. As a member of the Lambert Legacy Society, Dinah has chosen to extend the personal fulfillment she has received from their current gifts to Theta Foundation as a part of her lasting legacy.