Donor Stories
Christa Dell Sobon, Delta Zeta/Emory
A new family meant new plans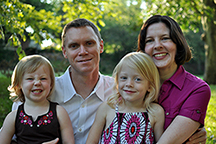 There are key moments that stand out as I reflect on my life. Outside of well-known world events, key memories involve my family and Kappa Alpha Theta. My Theta path started before I was even a member. I have a lovely connection with my mother's friend, Kathryn Corso, Gamma Upsilon/Miami, who wrote my Theta reference. To this day, I remember her enthusiastic encouragement to "Think Theta." I am so glad I did!
As an initiate of the Delta Zeta Chapter, my Theta membership allowed me to grow as a young woman and develop life-long friendships. While a collegian, I learned about legacies and "Theta for a Lifetime" from alumnae who served as advisors, as well as Theta family members who came to initiate their sisters, daughters, or granddaughters.
A few years after graduation, I was offered an opportunity to volunteer at the district level. During this time, I learned more about Kappa Alpha Theta Foundation and the remarkable work the Foundation does. Throughout my years as a volunteer, I have seen the wonderful, positive impact of Foundation dollars. Our Educational Leadership Consultants (ELCs), who are in part funded by the Foundation, are a tremendous source of support for our chapters and wonderful ambassadors for the Fraternity. The Foundation also funds an incredible number of undergraduate and graduate scholarships and grants.
While a Fraternity volunteer, I fell in love, married, and started my own family. Though it sounds cliché, from the moment I knew I was pregnant, my priorities and perspective changed. I remember the first time I saw our daughter's great big blue eyes as she looked at me after arriving a bit earlier than expected. Of course, we had the car seat, cute kite and pansy adorned clothes, and "Future Theta" gear. I lovingly sang Theta songs to her as I rocked her to sleep.
As new parents, my husband and I undertook the task that many tackle at some point in their life—that of creating a will. It is a daunting thing to think through your legacy and ensure you've appropriately conveyed your wishes. In determining how we wanted our assets distributed, I discussed with my husband my desire to include Kappa Alpha Theta Foundation in my will. To me, it was a "no brainer" as I have been a loyal Foundation donor and a grateful Foundation grant recipient. Theta has been a tremendously positive experience in my life, and I wanted to reflect that in my estate planning.
Now I have two legacies, both with big blue eyes. As they play with hula hoops and blow bubbles, I think about the colleges they might choose and the opportunities that will be available to them. It is my sincere hope that Theta and other Greek–letter organizations will be even stronger when my legacies are ready to consider participating in Recruitment. The Fraternity and Foundation are working to ensure that is the case, and I am glad to be a part of supporting their work.